Falcon, 19xx, No.3762
Artist: Arturo Ricci
size: 72 x 51 cm
Made exclusively for Jigsaw Wolrd (不知道代表何意?)
早期的Falcon (尚未被Jumbo合併之前)的拼片是光面的
裁切方式跟R牌差不多, 拼片背面也是深色系(深綠)
雖然從eBay上購入時就已經註明是幾十年前的拼圖了
拼片本身並不會因收藏時間久而龜裂, 由此可知其品質是極佳的.
Falcon的拼圖在盒底都有圖的解析.
這讓白菜想起另一個英國拼圖品牌"James Hamilton"也是如此.
或許, 我們可以說是Made in England的拼圖優勢吧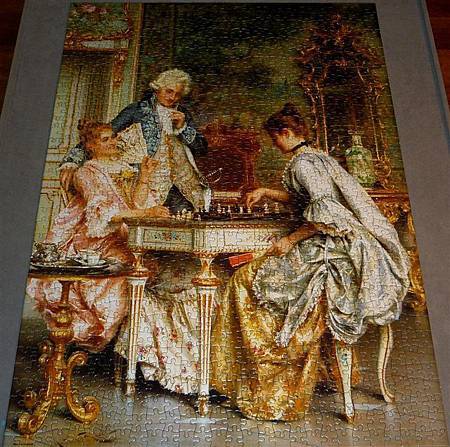 盒底解析:
A Game of Chess, painted by Arturo Ricci in the latter half of the eighteenth century, is a typical example of this artist's work. Born in Glorence in 1854 Ricci studied under Tito Conti before finding his own individual style in paintings of landscape and genre subjects.
Ricci is best know of his elaborate portrayals of sumptuous interiors. In The Game of Chess he creates a scene from the past, of an eighteenth century tococo drawing room and in intimate group of friends. The figures are drawn together both through the structured composition and through their game of chess. The young man, obviously amused by the state of play, himself seems to be playing a game with the affections of the ladies. One blushes behind her fan.
This work, as a whole, is delicate, frivilous and charming, it is vibrant with rich colours and textures. The artist has drawn attention to the smallest details, in the mouldings of the doors, the marbling of the floor and the gliding of the looking glass. It is interesting to note that the artist has picked out the same turquiose, pink, and yellow bouquets to decorate the furniture, the mural above the door, and even the fine embroidery on the young man's waistcoat.
另外, 除了英文外, 尚有另五種語言(看起來含西語/德語/另三種看不懂)