Ravensburger,2020,No.16421
Artist: Stuart Cox (British)
size: 49 x 36 cm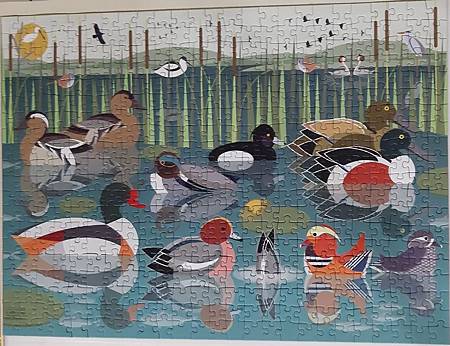 Official description:
A colourful raft of ducks relax, feed and take shelter amongst the reeds and lily pads. Behind them other birds and dragonflies create interesting patterns against the rolling hills and sky. The ducks on the water are - Shelduck, Widgeon, Mandarin (Male & Female), Shoveler, Black Tufted Duck, Teal and Garganey. The ducks amongst the reeds and in the sky are – Spoonbill, Bearded Reedling, Random Raptor, Avocet, Flying Geese, Swallows, Great Crested Grebe, Grey Heron.
Stuart's early life was spent on England's south coast, where he enjoyed birdwatching. Later in life, his work as a graphic designer took him to Scotland, where he began to illustrate the birds he saw around him. These drawings remained "lost" in a drawer until rediscovered by a friend who wanted to try selling greetings cards in a local café. Stuart sold over 1000 cards in a month in the café, after which high street retailers heard about their success and the rest is history. Stuart still lives in Scotland, where the beautiful scenery and amazing wildlife continue to inspire him.