TOi,2021.06,No. 12623
Original from Dunhuang
size: 70x26 cm
Made in China
購自高雄貓公寓
TOi與敦煌研究院合作出品(Dunhuang Academy)
敦煌研究院總算找到品質優良的拼圖商了!!

https://www.e-dunhuang.com/cave/10.0001/0001.0002.0025
榆林窟 第0025窟 盛唐 High Tang Dynasty(A.D.713-766)
主室方形,中有佛坛,前室横方形,有长甬道。此窟弥勒变中有古藏文题记和吐蕃男子与汉族女子的婚礼图,可知建于吐蕃占领瓜州而尚未占领沙州之间,即大历十一年(776)至建中二年(781)间。主室顶部塌毁,前室五代重修,原作保存十分完好。东壁绘密教"八大菩萨曼荼罗",南壁绘观无量寿佛经变,北壁为弥勒变,在经变两侧还有观音、势至、地藏等菩萨单身像,西壁门两侧绘文殊变、普贤变。前室东壁南北相对为毗琉璃天王和毗沙门天王,守卫佛国。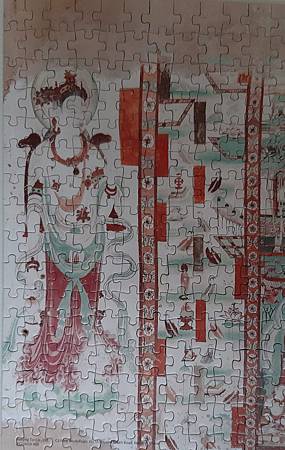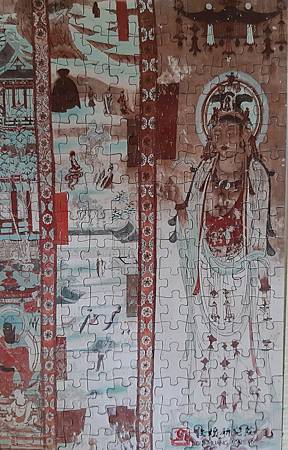 The main chamber is square in plan with a central altar, and the front chamber is rectangular in plan. Both are connected by a long corridor. In the Maitreya sutra illustration in this cave, there is an inscription in ancient Tibetan and an image of a wedding ceremony of a Tibetan man with a Chinese woman, from which it can be determined that it was constructed in the period when Guazhou was occupied by the Tibetans and Shazhou was not yet, namely from the 11th year of Dali era (776) to the second year of Jianzhong (781). Part of the ceiling of the main chamber has collapsed, and the front chamber was renovated in the Five Dynasties. The original paintings are well preserved. On the east wall is a Mandala of Eight Bodhisattvas, on the south wall is an Amitayus sutra illustration, and on the north wall is a Maitreya sutra illustration. On both sides of the illustration are single images of Avalokitesvara, Mahasthamaprapdta and Kistigabha bodhisattvas. On the two sides of the entrance in the west wall are illustrations of Manjusri and Samantabhadra. In the front chamber, the south side and north side of the east wall respectively depict Vidudabha and Vaisravana, who protect the paradise of Buddhism.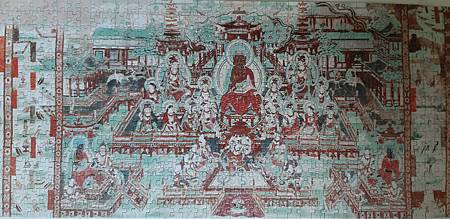 榆林窟 第0025窟 主室 北壁
Yulin Grottoes Cave 025 Main chamber South Wall
北壁绘弥勒经变一铺,以弥勒在龙华树下成道说法为主体,以弥勒三会形成三角形结构。主尊前首先表现儴佉王以镇国七宝和宝幢献给弥勒,弥勒又将宝幢转赐于婆罗门,而诸婆罗门立即拆毁宝幢各共分之,哲理性地表现人生无常,顷刻即逝,只有出家修行,摆脱现实苦难,便能进入净土世界,开宗明义地点出全画的主题思想。中部以小型画面大量描写了弥勒世界的美妙事物,如路不拾遗,一种七收,树上生衣,写经诵经,女人五百岁出嫁,老人自诣墓塋,以及上层的迦叶献袈裟,弥勒观父母,弥勒率弟子乞食翅头末城,以及兜率天宫等神秘场面。东端、西端画菩萨各一身,西端下宋画女供养人四身。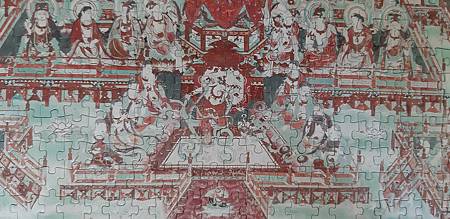 The north wall is covered with an Amitayus sutra illustration, in which Amitayus Buddha sits in lotus position on a diamond throne flanked by Avalokitesvara and Mahasthamaprapdta. Around them are attendant bodhisattvas. The middle pure land of Amitabha Buddha together with Sambhogakaya and Nirmanakaya on two sides forms an Assembly of three Buddhas. In front of the hall are platforms for dancing and music performance, where various music instruments are played and Kalavinka and musicians dance together. In the back are high towers and pavilions connected by winding corridors. In the sky, music instruments play heavenly music without a performer, and apsaras fly around the parasol. Red lotuses grow out of the green water, on which incarnated children are playing. What a happy and peaceful scene. Below them are six male donors of the Song dynasty.