<文截錄自wiki>
I am trying to complete the list of Mordillo's puzzles.
If anyone could provide a photo(preferred)/image from the list below will be very helpful!
Please email: miracleoce -at- gmail.com
Thanks to Elizabeth Roberts, Karin, lovepuzzle, rosebay, LM, Renee, puzzlepassion,Amber, spacedoutbooks17(ebay), Monique and Frank Schaubrenner, Marie-Laure CHAUVAT, Diana Chang, Christian Magin for providing me up-to-date information!!
2013.02.27
寫wiki Mordillo 拼圖清單原創者spacedoutbooks17(ebay賣家)與白菜聯絡上,表示可以提供一些圖片耶!! 超讚的!! 好開心^_^
---
Puzzle Manufacturer: HEYE
HEYE - 48-piece Mini Puzzles [Heart-Shaped Boxes]
For You Puzzle – As Quick as I Can [Art # 25046] [Purple Box] [2000]
For You Puzzle - Love Hurts [Art # 25048] [Fuchsia Box] [2000]
For You Puzzle - Loving Kiss [Art # 25044] [Light Green Box] [2000]
For You Puzzle - Measuring Love [Art # 25042] [Red Box] [2000]
For You Puzzle - Only You (aka: Matinee Lovers) [Art # 25043] [Yellow Box] [2000]
HEYE - 48-piece Mini Puzzles ["Pillow" Boxes]
HEYE - 48-piece Mini Puzzles [Small Square Boxes]
Untitled - Mini Puzzle - Butterfly Catcher [Art # 8113] [Pink Box] [1991]
Untitled - Mini Puzzle - Duck and Cover (from Crazy Zoo) [Art # 8133] [Light Purple Box] [1992]
Untitled - Mini Puzzle - Elephant Jogger (from Crazy Zoo) [Art # 8131] [Light Purple Box] [1992]
Untitled - Mini Puzzle - Horse and Giraffe Race [Art # 8117] [Pink Box] [1991]
Untitled - Mini Puzzle - Juggling dog [Art # 8111] [Pink Box] [1991]
Untitled - Mini Puzzle - Kangaroo boxing [Art # 8110] [Pink Box] [1991]
Untitled - Mini Puzzle - Kangaroo Story Time (from Crazy Zoo) [Art # 8130] [Light Purple Box] [1992]
Untitled - Mini Puzzle - Lion and Sheep Tango (from Crazy Zoo) [Art # 8132] [Light Purple Box] [1992]
Untitled - Mini Puzzle - Loving Kiss [Art # 8114] [Pink Box] [1991]
Untitled - Mini Puzzle - Milk drinking Cow [Art # 8115] [Pink Box] [1991]
Untitled - Mini Puzzle - Moose Dance (from Crazy Zoo) [Art # 8112] [Pink Box] [1991]
Untitled - Mini Puzzle - Parlez moi d'amour [Art # 8116] [Pink Box] [1991]
HEYE - 77-piece "Funny Puzzles" [Triangular Boxes]
HEYE - 88-piece "Party Puzzles" [Small Rectangular Boxes]
HEYE - 135-piece - Puzzle Theme: Giraffe [Hexangular Boxes]
HEYE - 150-piece Puzzles [Triangular Boxes]
HEYE - 192-piece Puzzle Game [Rectangular Box]
Puzzle Champ (Puzzle Game - Four 48-piece mini-puzzles: Butterfly Catcher, Kangaroo Boxing, Loving Kiss, Moose Dance) [Art # 7935] [Purple Box] [1991] [with puzzle solution cards]

Puzzle Champ (Puzzle Game - Four 48-piece mini-puzzles from Crazy Zoo: Lion and Sheep Tango, Elephant Jogger, Kangaroo Story Time, Duck and Cover) [Art # 6031] [Fuchsia Box] [1992] [with puzzle solution cards]

HEYE - 215-piece "Love Puzzles" [Heart-Shaped Tray Puzzles, Flat/Unboxed/Clear Plastic Wrap]
Untitled - Love Puzzle - Dinner for Two [Art # 8088] [Pink Frame Tray] [1996]
Untitled - Love Puzzle - Happily Ever After [Art # 8093] [Yellow Frame Tray] [1996]
Untitled - Love Puzzle - Island Hoppy [Art # 8097] [Orange Frame Tray] [1997]
Untitled - Love Puzzle - Jungle Eyes [Art # 8095] [Purple Frame Tray] [1997]
Untitled - Love Puzzle - Love Hurts [Art # 8092] [Pink Frame Tray] [1996]
Untitled - Love Puzzle - Necking [Art # 8091] [Pink Frame Tray] [1996]
Untitled - Love Puzzle - Only You (aka: Matinee Lovers) [Art # 8098] [Pink Frame Tray] [1997]
Untitled - Love Puzzle - Parlez moi d'amour [Art # 8087] [Pink Frame Tray] [1996]
Untitled - Love Puzzle - Ti Amo [Art # 8094] [Red Frame Tray] [1996]
Untitled - Love Puzzle - We Belong Together [Art # 8089] [Pink Frame Tray] [1996]
HEYE - 216-piece Double-Sided "Super Star Puzzles" [Square Flat Paperboard Envelopes]
Super Profi Puzzle - Labyrinthe - double-sided, identical pieces (back: Heye figurines) [Art # ....] [Black Box] [1982]
Super Star Puzzle - Labyrinthe - double-sided, identical pieces (back:ladybug) [Art # 8025] [Silver Box] [1982]
Super Star Puzzle - Par Cours - double-sided, identical pieces (back: giraffes) [Art # 8037] [Silver Box] [1983] (長頸鹿看起來是正確的,但另一面好像是Golf!?)
Super Star Puzzle - Crazy Crazy (aka: Tarzan) - double-sided, identical pieces (back: Cloud) [Art # 8033] [Silver Box] [1983]
HEYE - 250-piece Double-Sided Puzzles (1 side color/1 side black/white) [Square Boxes]
HEYE - 252-piece Puzzles [Rectangular Boxes]
HEYE - 300-piece Puzzles [Cardboard Canisters]
HEYE - 300-piece Double-Sided Puzzles (both sides color) [Square Boxes]
Untitled – Il Paradiso & Happy Artist [Art # 8268] [Pink / Black Box] [1995]
Untitled – Jungle Eyes & Prison Artist [Art # 8222] [Black / Blue Box] [1995]
Untitled – Moon Walk & Full Moon Romance [Art # 8221] [Purple / Light Blue Box] [1995]
Untitled – Moon Walk & Full Moon Romance [Art # 8261] [Purple / Black Box] [1995]
HEYE - 300-piece Puzzles [Triangular Boxes]
HEYE - 500-piece Puzzles [Rectangular Boxes]
HEYE - 500-piece Puzzles [Triangular Boxes] (Total 504-piece)
HEYE - 500-piece Puzzles [Triangular Boxes]
Happy Mother's Day [Art # 8355] [Black Box] [1987] [with Poster]
Heavy Skiing [Art # 25995] [Light Purple Box] [2003] [with Poster]
In flagranti [Art # 8328] [Purple Box] [1996] [with Poster]
Match-Box (Sport Puzzle) [Art # 8416] [Purple Box] [1991] [with Poster]
Par-Cours (Sport Puzzle) [Art # 8417] [Yellow Box] [1990] [with Poster]
Penalty [Art # 8332/80] [Green Box] [1999] [with Poster]
Penalty (Limited Edition) [Art # 8332/00] [Silver Box] [....] [with Poster]
Poker Face [Art # 8337] [Orange Box] [2002] [with Poster]



Pool Party [Art # 8329] [Purple Box] [1997] [with Poster]
Running for Love [Art # 8333/80] [Pink Box] [1999] [with Poster]
Running for Love (Limited Edition) [Art # 8333/00] [Silver Box] [1998] [with Poster]
Surprise [Art # 29031] [Black Box] [2004] [with Poster]


HEYE - 750-piece Puzzles [Triangular Boxes]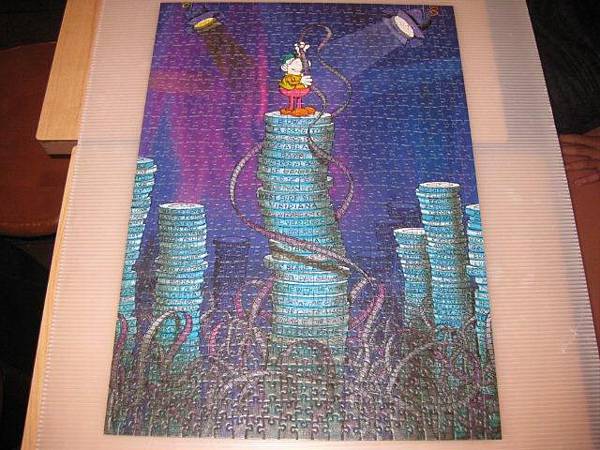 HEYE - 1000-piece "De Vino" Puzzle [Special Plastic Wine Bottle Packaging]
HEYE - 1000-piece Puzzles [Rectangular Boxes]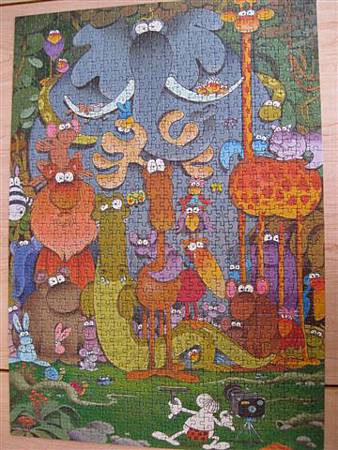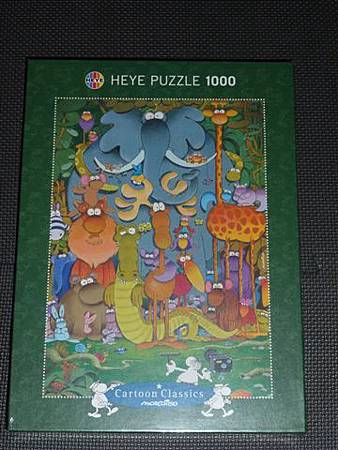 HEYE - 1000-piece Puzzles [Triangular Boxes]
Beach Hotel [Art # 8773] [Pink Box] [1992] [with Poster]
Cheers! [Art # 8772] [Bright Blue Box] [1991] [with Poster]
City Jogging [Art # 8741/80] [Purple Box] [1999] [with Poster]
City Jogging (Limited Edition) [Art # 8741] [Silver Box] [1998] [with Poster]
Crazy Football (aka: Mordillofootballissimo) [Art # 29091] [Green Box] [2005] [with Poster]
Crazy Football [Art # 29091] [smaller Green Box] [2013]
Crazy Parking [Art # 1990-8001] [Black Box] [1974] [with Poster]
Dinner for Two [Art # 8764] [Silver Box] [1990] [with Poster]
Fantastic Flight [Art # 25472] [Lime Green Box] [2001] [with Poster]
Fasten Seat Belt [Art # 8768] [Fuchsia Box] [1991] [with Poster]
Fasten Seat Belts [Art # 1990-8722] [Black Box] [1974] [with Poster]
Football Hill [Art # 8795] [Blue Box] [1997] [with Poster]
Football World (aka: World Cup) [Art # 26006] [Dark Blue Box] [2003] [with Poster]
Goal [Art # 8777] [Bright Blue Box] [1992] [with Poster]
Good Morning Sunshine [Art # 25105] [Purple Box] [2001] [with Poster]
Good Morning Sunshine [Art # ....] [Orange Box] [....] [with Poster]
Good Old Fellow [Art # 1990-8006] [Black Box] [1974] [with Poster]
Grande Amore [Art # 25458] [Purple Box] [2001] [with Poster]
Grande Amore [Art # 8740] [Black Box] [.....] [with Poster]
Hands Up! [Art # 8739] [Black Box] [1984] [with Poster]
Happy Artist [Art # 1990-8005] [Black Box] [1974] [with Poster]
Hello Darling [Art # 8769] [Purple Box] [1992] [with Poster]
Idyll

(from Mordilloland) (sometimes sold as:

Paradise

)[Art # 29230] [Maroon Box] [2008] [with Poster]

iCow [Art # 29410] [Red Box] [2010] [with Poster]



Il Paradiso [Art # 1990-8702] [Black Box] [1974] [with Poster]
il paradiso [Art # 8701] [..... Box] [....] [with Poster]
In Love [Art # 8759] [Black Box] [1988] [with Poster]
l'amour Dangereux [Art # 1990-8004] [Black Box] [1974] [with Poster]


L'amour dangereux [Art # 8704] [Black Box] [1979] [with Poster]
Land of Dreams [Art # 25761] [Fuchsia Box] [2001] [with Poster]
Lost in Paradise [Art # 8789] [Blue Box] [1995] [with Poster]
Love Express [Art # 8745] [Black Box] [1985] [with Poster]
Mamma Leone [Art # 8762] [Silver Box] [1988] [with Poster]
Never trust a hero [Art # 8750] [Black Box] [1986] [with Poster]
Nobody is Perfect [Art # 25471] [Fuchsia Box] [2001] [with Poster]
HEYE - 1500-piece Puzzles [Triangular Boxes]
Crazy Circus [Art # 8808] [Black Box] [1981] [with Poster]


Easy Rider [Art # 8807] [Black Box] [1981] [with Poster]
High Noon [Art # 8825] [Green Box] [1991] [with Poster]
Mordillo Tornado [Art # 8809] [Black Box] [1981] [with Poster]
Mordillofootballissimo [Art # 8815] [Black Box] [1982] [with Poster]
Footballissimo [Art # 8815] [Blue Box] [2008]
Footballissimo [Art # 8815] [Blue Box] [box says 1982, but est. 2007 based on box style] [with Poster]
Run for Fun [Art # 8844] [Purple Box] [1999] [with Poster]
Wildlife (from Crazy Zoo) [Art # 29187] [Orange Box] [2007] [with Poster]




HEYE -2000-piece Puzzles [Rectangular Boxes]
HEYE -2000-piece Puzzles [Triangular Boxes]
City [Art # 29495] [Purple Box] [2012]
Count & Smile [Art # 25556] [Orange Box] [2001] [with Poster]
Crazy Zoo [Art # 8659] [Teal Box] [1991] [with Poster]
Decorator (aka: Happy Artist) [Art # 29415] [Purple Box] [2011] [with Poster]


Futura [Art # 459 08654] [Silver Box] [1988] [with Poster]
Futura (Limited Edition) (Pieces have metallicized finish) [Art # 8677] [Metallic Box] [1998] [with Poster]
Kiss [Art # 29699] [Blue Box] [2015]
Master Put [Art # 8653] [Silver Box] [1987] [with Poster]
Mordillo City [Art # 8666] [Black Box] [1995] [with Poster]
Mordilloland [Art # 8671] [Dark Purple Box] [1997] [with Poster]
The Kiss [Art # 8664] [Purple Box] [1994] [with Poster]
Winterland at Nahuel Huapi [Art # 26157] [Grey Box] [2003] [with Poster]
World Cup (aka: Football World) [Art # 8663] [Black Box] [1993] [with Poster]
Zoo-Zoo Train [Art # 25137] [Purple Box] [2000] [with Poster]
HEYE -4000-piece Puzzles [Triangular Boxes]
Druon - 1000-piece Puzzles [Rectangular Boxes]
Educa - 500-piece Puzzles [Rectangular Boxes]
Chasseur [Art # .....] [2002]
It wasn't me (same as: Hands Up!) [Art # 11781] [Dark Teal Box] [1994/2002]
Love City (same as: Ti Amo) [Art # 11780] [Dark Green Box] [2002]
Educa -1000-piece Puzzles [Rectangular Boxes]
Educa -1500-piece Puzzles [Rectangular Boxes]
Playfair -1000-piece "Party Puzzles" [Cardboard Canisters] (Total 1008-piece)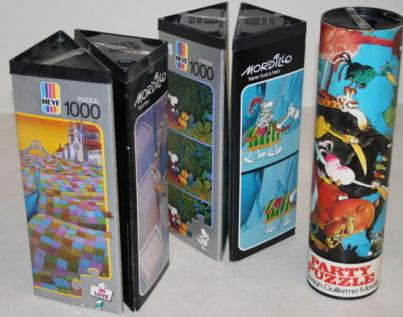 圓筒
Untitled – Bed Time [Art # 3203] [Black Box] [1973] [with mini-poster]
Untitled – Shower Guest [Art # 3215] [Black Box] [1973] [with mini-poster]
Untitled – Hands Up! [Art # 3207] [Black Box] [1973] [with mini-poster]
Untitled – High Noon [Art # 3213] [Black Box] [1973] [with mini-poster]
Untitled – Next, Please! [Art # 3209] [Black Box] [1973] [with mini-poster]
Untitled – Surprise Party [Art # 3217] [Black Box] [1973] [with mini-poster]
Playfair -1000-piece "Party Puzzles" [Rectangular Boxes] (Total 1008-piece)
Untitled – Bed Time [Art # 3203] [Black Box] [1973] [with mini-poster]
Untitled – Shower Guest [Art # 3215] [Black Box] [1973] [with mini-poster]


Untitled – Hands Up! [Art # 3207] [Black Box] [1973] [with mini-poster]
Untitled – High Noon [Art # 3213] [Black Box] [1973] [with mini-poster]
Untitled – Next, Please! [Art # 3209] [Black Box] [1973] [with mini-poster]
Untitled – Surprise Party [Art # 3217] [Black Box] [1973] [with mini-poster]
Ravensburger - 240-piece Puzzleball [Square Box]
~
改天有空再補圖好了,圖要花時間找