Puzzle House,No.05-1002
Artist: Kagaya
size: 73.5 x 51 cm
Made in Korea
這幅阿~比想像中簡單的很多~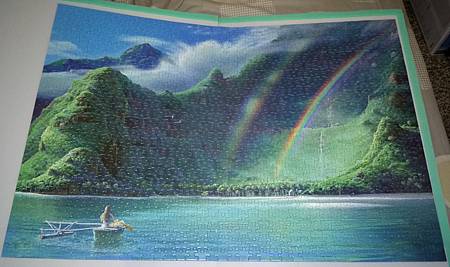 KAGAYA官網介紹:
Prism Island

In the calm inlet, there comes a gate on the heights in sight.
The gate was named Rainbow Gate, it is said,about thousand years ago.
It still deserves the name just as the sight is seen as before.
Travelers say, having come through the Gate to the earth,
a curve of bright colors is so impressive as to be a reminder of whole their travel on the planet.
She is going to prepare flowers to welcome travelers coming here this evening,
which may be as colorful as the rainbow and as impressive as its prism.
All travelers love such an impression of the colors.
This is probably why the Gate is popular among them.


プリズム・アイランド
入り江に近づくと、高台のゲートが見えてきました。
ここに虹のゲートという名前がつけられたのは千年も前のことです。
その名にふさわしい光景が今でも変わらずに見られます。
ここから地球に入った人は、鮮やかな虹の色とこの惑星の旅の記憶が重なるといいます。

「あの虹に負けないくらいの、色とりどりのお花も用意しましょう。
今日ゲートをくぐってくる人の、すてきな旅の思い出になるように。」

このゲートが人気なのは、そんな旅の印象を大切にする人が多いからかもしれません。