Puzzle House,No.05-1003
Artist: Kagaya
size: 73.5 x 51 cm
Made in Korea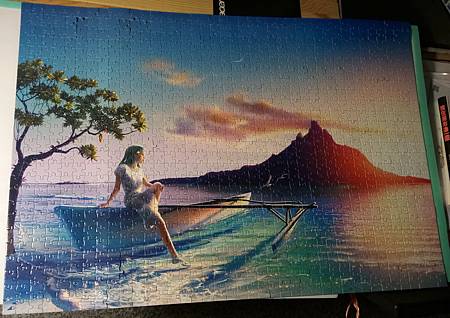 Quote from KAGAYA's official website:
Reflection

On her way home, she was fascinated by the beautiful setting-sun and drew up the boat on the shore.
Hearing waves sloshing about in the bottom of the boat, she feels happy to think tomorrow will be lovely day for her.
The warm and calm sea reflects an ever-changing color of the sky.
The crescent moon at the age of 2 days is appearing above in the sky,
which will be filled with countless stars in the course of time.


リフレクション
家に帰る途中、
夕日があまりにきれいなので彼女は渚に舟を泊めました。

やさしい波が船底をたたく音を聞きながら、
楽しい一日になる明日の予感にときめいています。

温かく静かな海は、刻々と変わる空の色を映しています。
やがて満天の星空に変わる天空には、新月から二日目の細い月が見え始めました。