Galileo Multimedia Ltd,2018
Artist: Philip Martin (Illustration 2013)
size: 68*48 cm
Printed in Europe
Box description:
"Cambridge is one of the oldest universities in the world, the foundations of which were laid in 1209. It is also one of the most beautiful of English cities, its skyline dominated by Kings College Chapel, known the world over for its Christmas Eve carol service.
There are 31 colleges, many of them adjacent to the River Cam, which flows alongside mediaeval buildings with their huge lawns sweeping down to the water.
Cambridge University has a massive list of famous alumni. To mention but a few: Isaac Newton, Francis Bacon, Charles Darwin, Stephen Hawling, John Keynes, Bertrand Russell, John Milton, Ludwig Wittgenstein, and Oliver Cromwell. But the list is endless!
The artist of this jigsaw illustration is Philip Martin, who with his brother Glyn, has been painting British scenes all his life."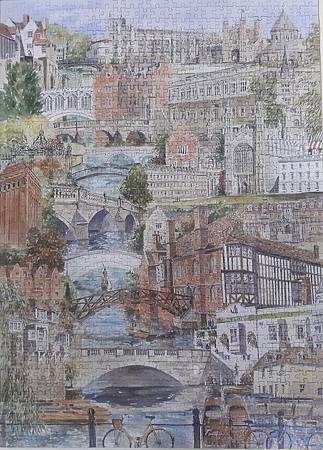 先前拼過劍橋牛津二合一的圖案,當時是因為買不到單獨一幅的拼圖。
前陣子剛好看到Amazon有人在賣,歡喜的不得了,立刻購入。
前一篇:按我